What a beautiful privilege it is for us to interview Escape Nomade founder, Anneke van Waesberghe as part of our "Follow Your Heart" series.
We just love everything about Escape Nomade. The safari tents are far, far more than glamping under the stars. And items that make up the tent styling add to the "wow" of why we love everything about this brand so much.
Escape Nomade really are in a league of their own.
It all started with traveling around the world in the 1990's and contributing to a new wave of Escape Nomade travel products for which Anneke created a tent to house the products she created to take 5-star luxury to desolated areas in South East Asia to make her traveling lifestyle more comfortable.
The tent became an event, an experience in the midst of nature, attracting visitors to listen to the sounds of nature by means of hosting Royal tented High Tea picnics, with yoga and massage treats on a deep gorge above a mountain stream.
Her Sanctuary is private, although people from all around the world come to visit to see her tents, or come to design one for their own private home or resort.
You will always only find there what is really needed to function as a household - not more and not less.
Q. How would you describe Escape Nomade's style?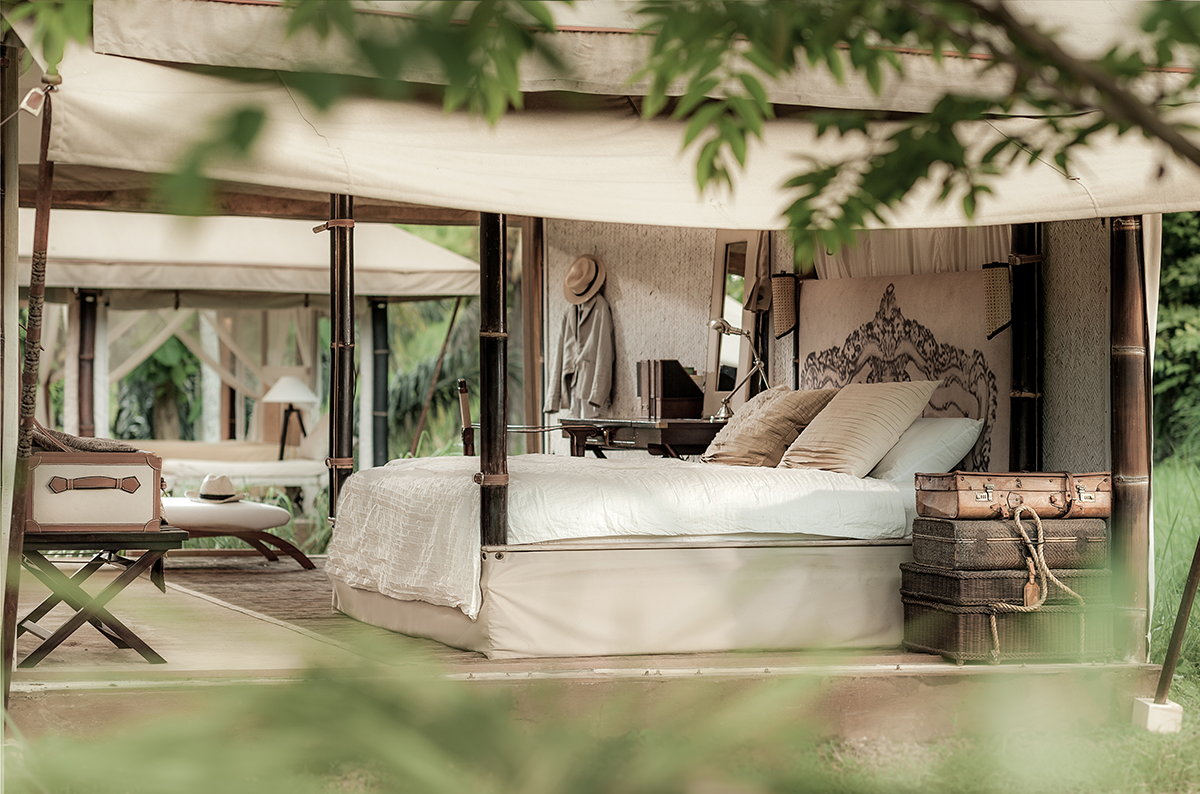 Escape Nomade is based on British Campaign and Safari style furniture.
Our signature tent style is all about timeless mobility and multi-functionality.
Q. What design elements would create the ultimate Escape Nomade room?
I design our Escape Nomade rooms, so each piece can be easily moved around.
The Escape Nomade room is filled with folding tables which have multiple functionality or purpose, whether it is a desk, butler tray or table for cocktails, tea time, dining etc.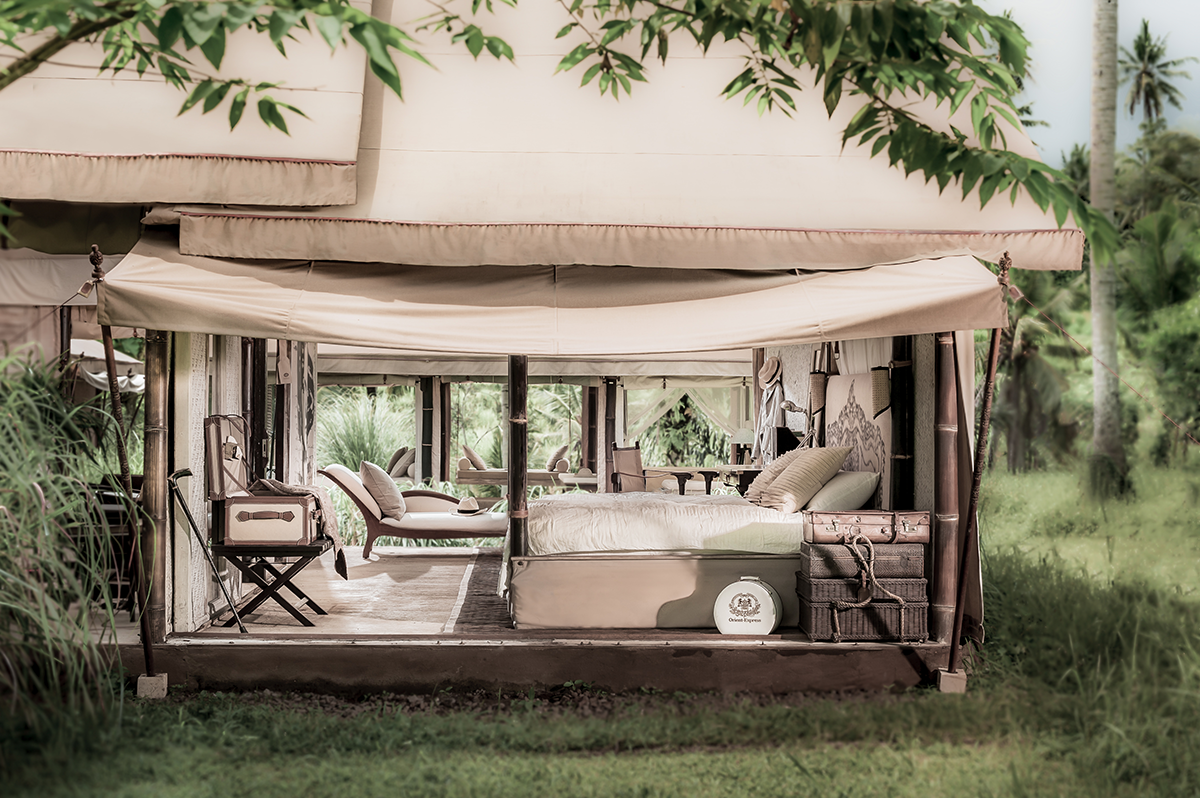 The early morning light catches the mosquito net and creates a dream cloud which makes you never want to leave the bed again.
The evening light captures the sunset and is the most overwhelming beautiful light of the day.
Anneke adds... "The masterpiece is an air conditioned bed that also functions as a sofa for daytime relaxation. A sofa in the front captures the cold air outside of the bed.
I avoid unused space to be cooled (or heated for that matter). We like to capture the ever changing light by placing the tents in the sunrise/sunset position, to use air cooling to the maximum adding canopies to lower sun penetration. In no time spaces can be created inside or outdoor by rolling up a panel. "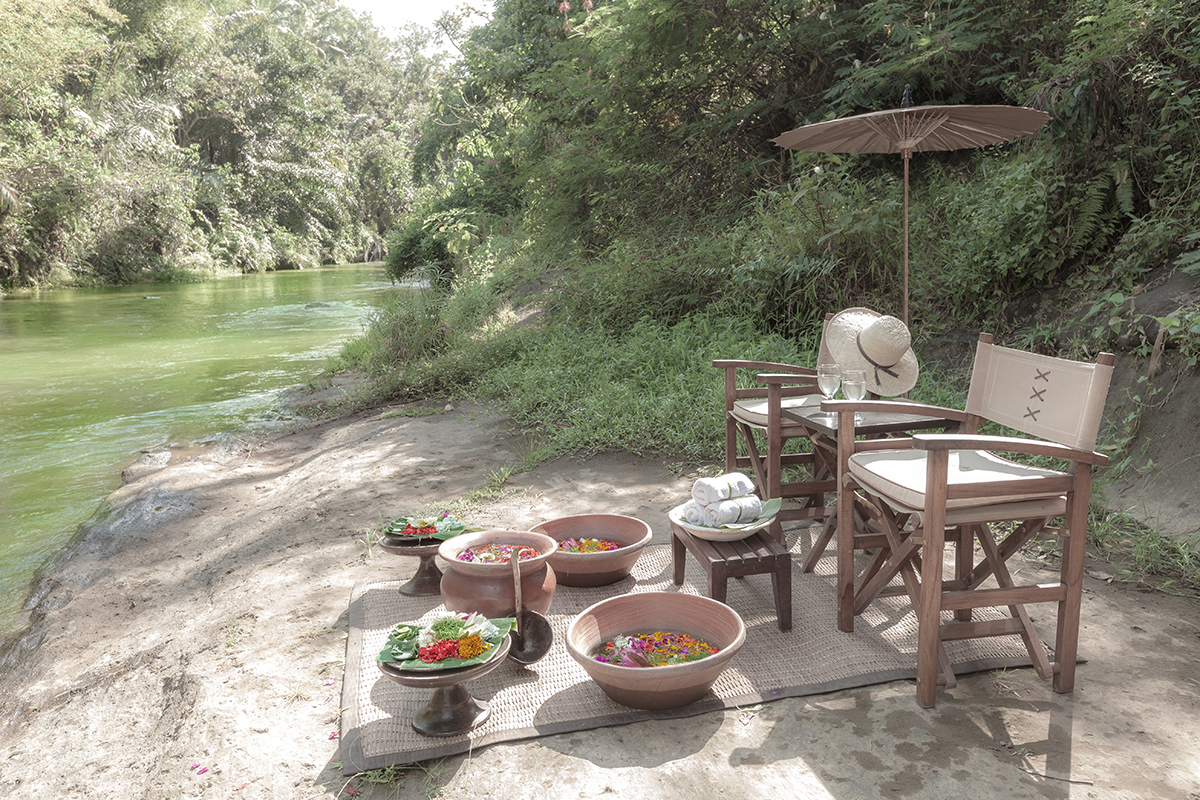 The folding chairs and tables can be easily put outside to capture the last rays of light just before the cicadas start their evening concert.
All furniture is covered without water resistant fabrics so they can be inside or out. I use eco leather to create our style and cover corners and edges with contrasting stitching lines.
Q. What are the staple colours used in Escape Nomade styling?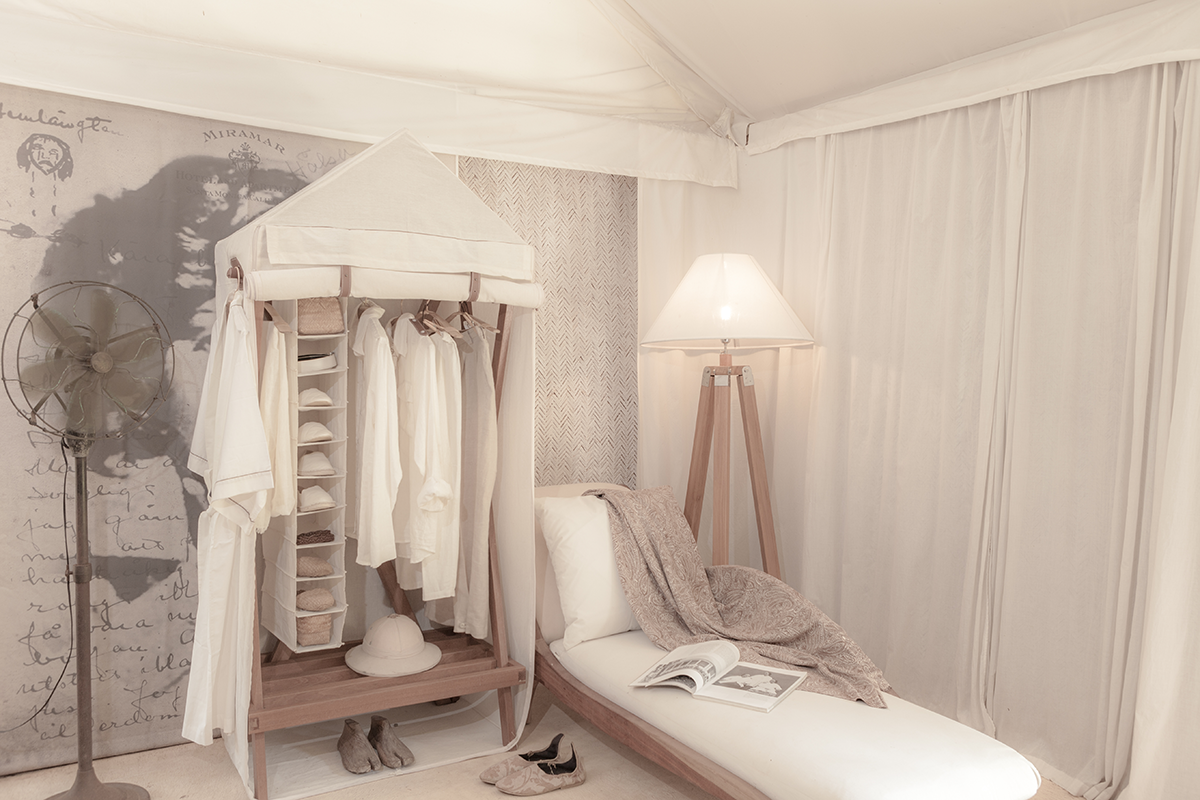 Our signature color is white, as white has it all… It is the final result of all colors combined and in perfect harmony. When you spin a wheel with a strip of each color of the rainbow painted on it and turn it around fast the only color you will see is white. Ours staple of colors is a classic palette which are symbolic for simple elegance.
Throughout our tents I focus on a simple palette of natural beige, off white for the interiors and a selection of brown for wood finishes and adding black for graphics and packaging.
It creates style and elegance bringing the power of silence to an ever changing and tremulous world.
Q. If you had access to one person's house in the whole world to gain inspiration from, whose house you would you choose?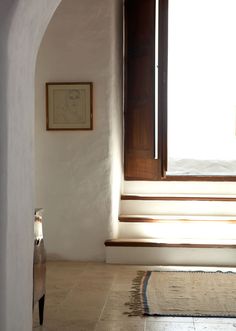 A. That would be Axel Vervoordt. His style and culture are mine - especially the minimalistic approach.
His basic principle is to put nothing rather than something, which really is a meditative action as in the end nothingness is more fulfilling than mindless something.
It takes courage and deep understanding of what you really want in life to withdraw from materialism and things that clutter our lives.
It is thoughtfulness, it is like making a list of things you want or don't want in life and delete all of the latter.
My work, and his, are a spiritual practice.
Q. Where can we experience the beauty of Escape Nomade?
The Sanctuary, Ubud hosts picnic lunches and Royal high teas. The river and the proximity of the rice fields and the tranquil environment are the least to say inspirational. The romance and closeness to nature are so beautiful and overwhelming, especially under the canvas roofs. This is a space where like-minded people can share this extraordinary experience.
The gardens around are not created but left in its original state as if just discovered and paths are created just by cutting away the jungle to let nature be. There are no planted flowers only the wild in its majestic beauty.
Enjoy a picnic Royal High Tea here...!
All images above belong to Escape Nomade
Alex Vervoordt image: photographer unkown